SAN FRANCISCO – California wineries shipped 241.5 million nine-liter cases to the U.S. in 2019 with an estimated retail value of $43.6 billion, up 6% in value and down 1% in volume, according to wine industry expert Jon Moramarco of bw166 and Gomberg, Fredrikson & Associates.
California wine sales to all markets, including shipments to the U.S. and export markets, were 275.6 million cases in 2019.
"The value of California wine sales in the U.S. grew 6% in 2019 as our vintners attracted consumers with diverse, sustainably produced, high-quality wines," said Robert P. (Bobby) Koch, Wine Institute President and CEO. "This year will be more challenging, especially for small- and medium-sized wineries because of the closure of tasting rooms and restaurants. Tasting rooms have reopened, and our wineries are working to recover by reaching consumers through DTC, digital sales and virtual experiences."
"California wine has had a good run over the last 25 years with the wine category incrementally gaining year after year ahead of the 1.2% annual increase of the U.S. legal drinking age population over this time period," said Moramarco. "But the growth of the LDA population is expected to flatten in the coming years, and overall consumer spending was down 25.5% from March 15 to May 15, 2020 due to the pandemic. Wineries will need to protect their base with Baby Boomers, hold wine's place as the mealtime beverage and evolve with consumers' dining habits and also attract younger generations with new products and tasting experiences."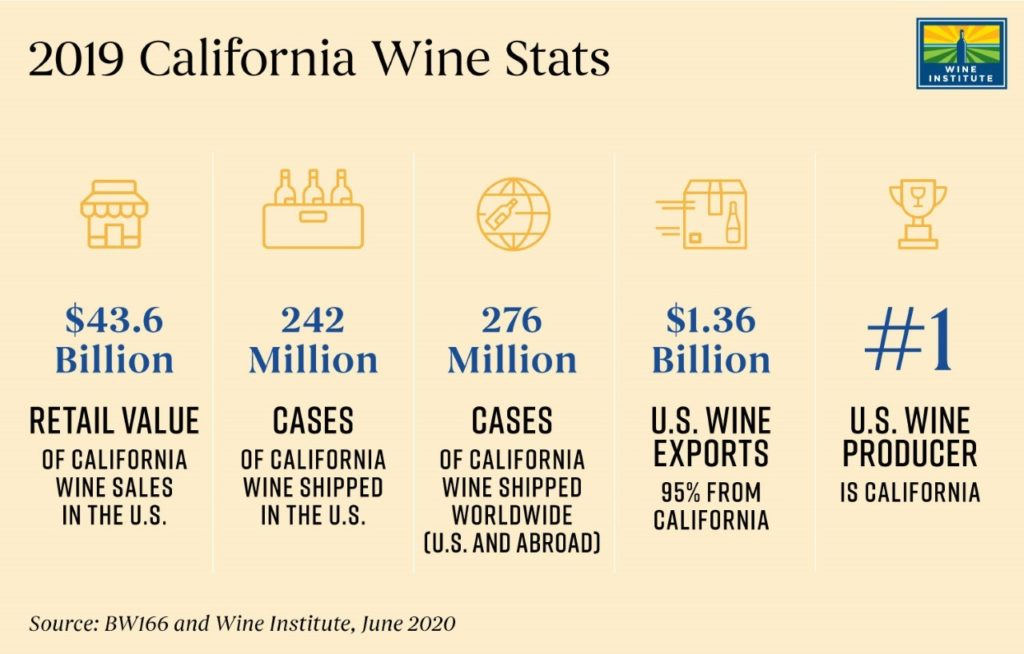 "Dietary information is an increasing part of the market landscape as consumer awareness of 'better for me' products and social moderation grows," said Danny Brager, Senior Vice President of Nielsen's Beverage Alcohol Practice Area. At the same time, even if consumers drink less, they continue to drink better, as evidenced by the continued premiumization trend, along with an appetite for diverse flavors. These underlying trends go hand-in-hand with the rising sales of smaller-serve packages and flavored and lighter, wine-based cocktails.
"Wineries are expanding the occasions and reasons to enjoy wine by offering food and entertaining experiences, diverse products, convenient ways to access wine online and convenient packaging to drink wine," said Brager.
According to Nielsen-measured U.S. off-premise sales in food stores and other large volume outlets, top-selling varietals by volume share are: Chardonnay, 18.6%; Cabernet Sauvignon, 15.1%; Red Blends, 10.7%; Pinot Grigio/Gris, 10.0%; Moscato/Muscat, 6.0%; Merlot, 5.9%; Sauvignon Blanc, 5.5%; Pinot Noir,5.2%; White Zinfandel/Blush, 3.3%; and Rosé, 3.1%. Rosé is the only varietal to grow at double digit levels compared to 2018.
The U.S. Wine Market
The U.S. has remained the world's largest wine market by volume since 2010 and is the fourth leading wine producer worldwide. Wine shipments to the U.S. from California, other states and foreign producers grew 0.3% to 406.4 million cases in 2019, with an estimated retail value of $75.1 billion. California's 241.5 million cases shipped within the U.S. in 2019 represent a 60% share of the total U.S. wine market.
Total shipments of sparkling wine and champagne to the U.S. from all production sources reached 29.3 million cases in 2019, an increase of 6.2%. Sparkling wines/champagnes accounted for a 7% share of the U.S. wine market.
U.S. Wine Exports
U.S. wine exports, 95% from California, reached $1.36 billion in winery revenues in 2019. Volume shipments were 371 million liters or 41 million nine-liter cases. The European Union's 28-member countries were the top market for U.S. wine exports, accounting for $427 million; followed by Canada, $424 million; Hong Kong, $113 million; Japan, $92 million; China, $39 million; South Korea, $27 million; Nigeria, $24 million; Mexico, $19 million; Philippines, $18 million; Dominican Republic, $16 million; and Switzerland, $15 million.
###
MEDIA CONTACT:
Wine Institute Communications Department, 415/356-7525
communications@

null

wineinstitute.org