Consumer/Trade/Media Website for U.S. and International Audiences Gets Major Upgrade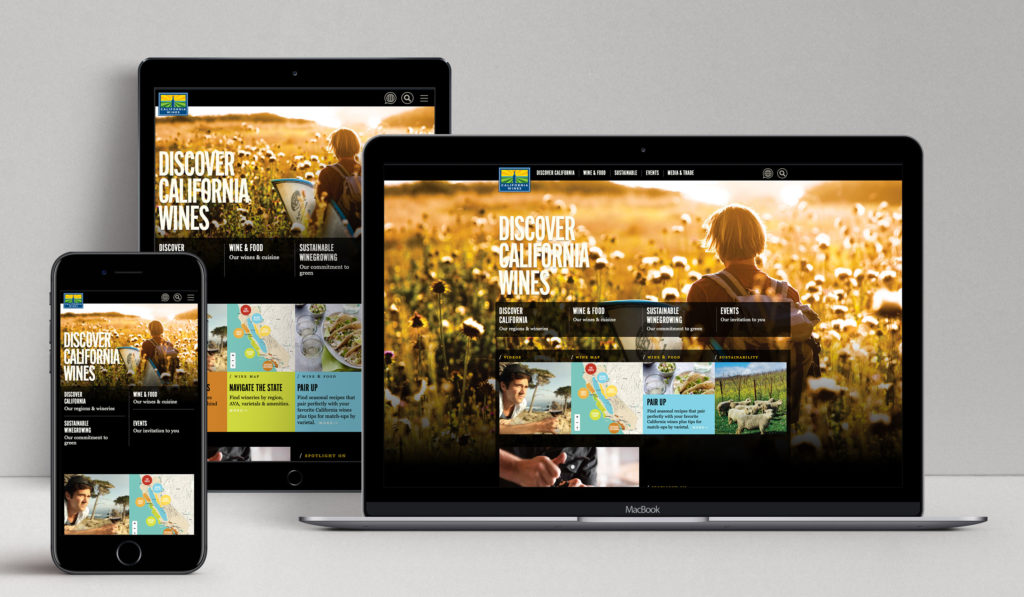 SAN FRANCISCO — Wine Institute has relaunched its DiscoverCaliforniaWines.com consumer website as a comprehensive resource on California wines, wineries and planning a tour to California wine country. The website is available for the U.S. and customized for top export markets in nine localized and foreign language versions.
The website has been updated for mobile and tablet viewers, and users can view new state-of-the-art wine region maps that display wineries, events and American Viticultural Areas (AVAs) in an interactive manner similar to Google maps. Map content is dynamic so that visitors can see winery locations within AVA boundaries and view details about events, winery profiles and amenities. Popular existing content such as the winery directory, recipes and region and varietal information remains with updated formats.
"DiscoverCaliforniaWines.com is the ultimate source for information on California AVAs, wineries and events, presented in an easy-to-navigate, visually appealing way for our global audience," said Linsey Gallagher, Vice President of International Marketing for Wine Institute.
"Website visitors have easy access to the information they want most," said Nancy Light, Vice President of Wine Institute Communications. "In addition to touring maps, there is a collection of delicious recipes with wine pairings and guides to California regions, varietals and sustainable winegrowing practices."
As before, DiscoverCaliforniaWines.com has been translated and localized for international users in nine countries in addition to the U.S. These international websites support Wine Institute's California Wine Export Program, which has 175 winery participants that export to 135 countries.
From California's major wine regions, users can select a specific AVA, such as the Russian River Valley, and zoom in more to see wineries and events.
Dozens of recipes, paired with California wine suggestions, highlight the diverse and delicious wine and food offerings of the Golden State.
Established in 1934, Wine Institute is the public policy advocacy group of 1,000 California wineries and wine-related businesses that initiate and advocate public policy to enhance the environment for the responsible production, consumption and enjoyment of wine. The organization contributes to the economic and environmental vitality of California and the U.S. through leadership in sustainable winegrowing, an international marketing program that promotes awareness of and appreciation for California wines throughout the world, and a partnership with Visit California to showcase the state's diverse and abundant wine and food offerings. Wine Institute membership represents 81 percent of U.S. wine production and more than 90 percent of U.S. wine exports.
###
MEDIA CONTACT:
Wine Institute Communications Department, 415/356-7525
communications@nullwineinstitute.org